An Unprecedented Exhibition
March 2nd through 4th
Ms.Matsuki Satoyo started her career as an oil painting artist.
Three years ago she got involved in her new artistic challenge.
She selected washi, Japanese traditional paper instead of a normal canvas.
She cut a wide variety of animals by a paper cutter and then pasted each
of them on the washi. It's a really really elaborate work.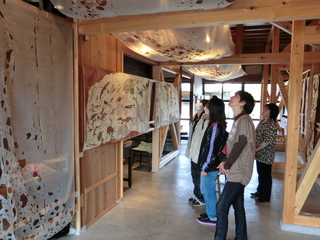 The animals on the paper are very vivid, cute, and dynamic.
The color selection is exquisite.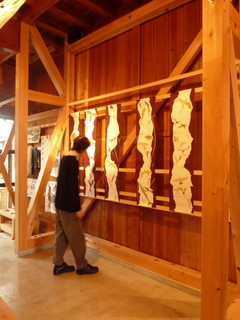 I can imagine that each work has her own idea, story and message.
However her generousity allows the visitors to feel her works
from their point of view.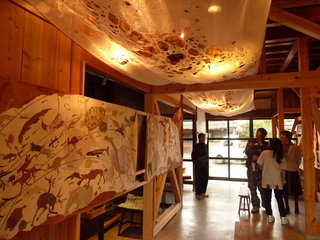 Look up at the ceiling. This canopy-like work is made of a polyester organdy.
She burned a ten meter long cloth with an iron.
You can see holes of different sizes and shapes.
The holes are not just holes.
When you see the holes carefully, you'll find some kinds of animals,such as cats and birds.
The visitors are fascinated most by this work.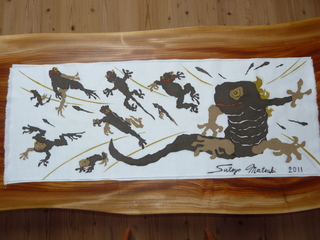 Cotton towels featuring a pattern of different sizes of frog are gaining reputaition and still on sale.
There are two types; one is printed in a simple color of some kinds and the other is printed in four colors.