Home sweet home
A workplace is a kind of battlefield. It's true.
A workplace should be a kind of home, right?
You spend most of your waking hours at your workplace.
What should you do if your workplace is full of an uncomfortable atmosphere?
Yugakutei is just the opposite.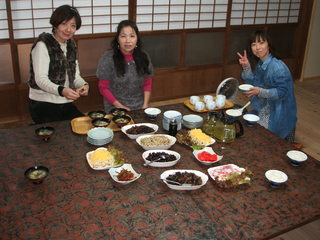 Every Tuesday, Nagisachan an expert in cleaning a traditional Japanese style come all the way to Yugakutei from Mikisato in Owase to show us her technique.
This Tuesday is special.
She brought us a healthy lunch of her own making.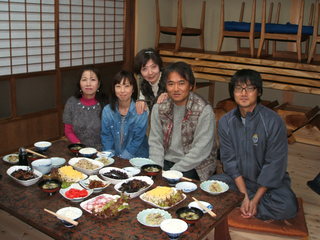 Hiziki stimmered slowly in a soy broth.
Black soy beans stimmered slowly in a soy broth.
Sliced Chinese cabbage kneaded with salt and slices of boiled bonito (made by Nagisa).
Potato mimosa salad with salad greens from Nagisa's garden.
Thin sliced redbeet and Japanese radish pickled in vinegar.
The leaves of redbeet and Jananese radish pickled in vingegar with citrus juice.
80percent husked rice.
Miso soup with tofu and wakake.
Of course Miso is Nagisa's specialty.
How exquisite her lunch is!
How sweet Nagisachan is!