Gourtmet Street
There are a wide varieties of diners near my workplace Yugaku-tei.
We are privileged to enjoy scrumptious lunch.
Why don't you share information on lunch selection with me?
This is my first report.
When I get out of Yugakutei from the backyard, I come to the Mokkoku Street,
which is the busiest spot in Kiinagashima.
The Mokkoku street runs between the 42nd Highway and Kiinagashima Railway Station. Along with the diners on the Mokkoku Street,are Japanese and Chinese
restaurants and a coffe shop which serve delicious meals
on the both sides of the 42nd Highway.
Tsuruten
Tsuru is a Japanese expression which means "slurp noodles" or the sound of
slurping. Ten is an abbreviation of a typical Japanese cuisine tempura.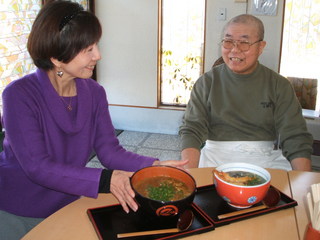 The owner's endeavor and his wife's cheerfulness draw customers to their noodle
shop repeatedly. The noodles are of his own making. You have to wait
13 minutes for noodle to be done.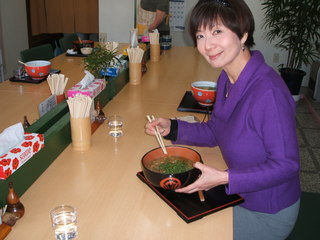 Curry noodle is male staff's favorite.
coat noodles with curry roux and taste it.
You'll be captivated by this curry noodle.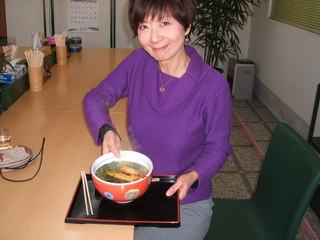 Irresistable! I'm a weight watcher and have to take a low cholesterol diet.
Two prawn tempura, paper-thin shavings and condiments of finely sliced
long onions.
I can't stop having tempura udon.