Gratitude
Today's event is very special for us.
This is the 20th Brick Oven Pizza Making event.
Nine girls of the Kihoku-cho Town Office pariticipated
in this event.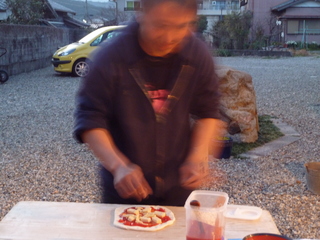 My dear Yamachan!
He prepares dough before every event.
Kneading dough thoroughly is a strenuous job.
His efforts have made Pizza of Yugaku-tei
the talk of the town.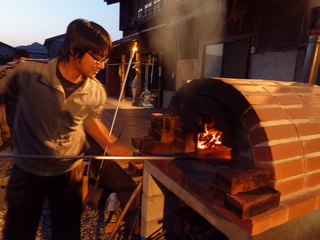 Sadakun's attention to fine points and technique are
essential to a pizza event.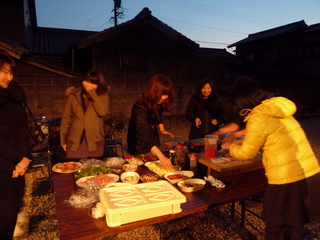 That night Danish mozzarella cheese was used for female participants.
They tried mozzarella itself.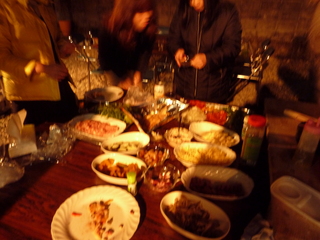 Both tomato sauce and miso sauce are sooooooo tasty.
I may be boasting myself,
but Yygakutei's pizza is the best.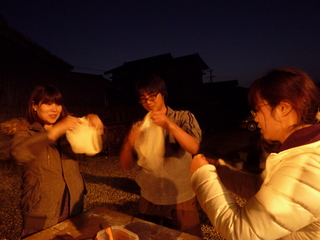 Toss the dough so that you can get crispy pizza.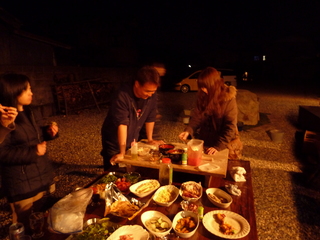 Nan was also baked.
Dip it in curry sauce.
Another specialty is dessert pizza with
sliced bananas, canned oranges, chocolate
and blueberry jam on it.
Of course, girls' favorite.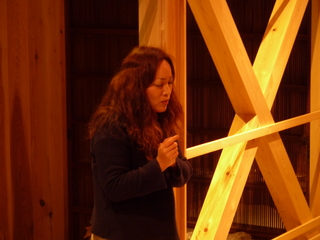 At the open space, a diva Mai sang fascinatingly.
Everyone there was slightly intoxicated with pizzas,
wine and her voice.
Thank you very much for your kind cooperation.
All of the staff for Yugakutei are
going to leave at the end of March.
The new staff will take over Yugakutei's pizza event.
With Gratitude,
Yamada, Mitamura, Okumura, Murata.